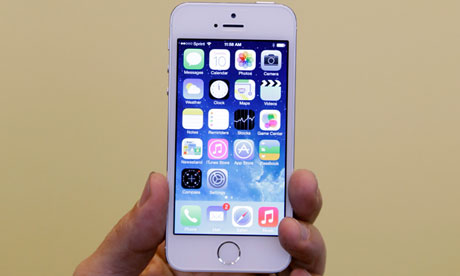 So,
Apple
has unveiled its latest flagship smartphone, the
iPhone
5S. Sporting a fingerprint sensor and an improved camera, while being up to twice as fast as the previous generation, the iPhone 5S looks to be another stellar smartphone entry.
Price
The iPhone 5S starts at £549 for a model with 16GB of storage, with prices going up from there, through £629 for 32GB, and hitting a hefty £709 for 64GB of storage. Compared with last year's iPhone 5, the starting price is £20 higher, and makes it more expensive than competition from the likes of HTC, Samsung and Sony.
Prices on-contract, directly from mobile phone operators, will be slightly lower, of course, when taken out with relatively expensive monthly plans. Whichever way you look at it, the iPhone 5S is a pricey proposition.
Camera
For the iPhone 5S, Apple's improved the camera compared to previous iPhones by physically increasing the size of the image sensor. That means, at least on paper, significantly higher low-light performance, which should result in better pictures captured in the often-poor lighting conditions users find themselves in. Party photos from bars, pubs and dimly-lit homes should be clearer, sharper, and with better colours compared to pictures captured the iPhone 5 and 4S.
Features
The iPhone 5S marks Apple's first introduction of a fingerprint reader called "Touch ID". The sensor sits under the traditional home button, allowing users to ditch passwords and unlock their iPhones just by swiping their finger across the home button. It's a major leap forward in both phone security and usability because users will no longer have to remember PINs or passwords, as the Touch ID will also allow the user to purchase music, apps and videos through the phone.
Five fingerprints can be stored on the device to unlock the iPhone but only one can be associated with your iTunes account so your kids will be able to unlock your phone, but will be prevented from buying apps, videos and music, which could save you from some very expensive bills. Your fingerprint data is only stored on your phone and it isn't sent over the internet or stored on Apple's servers, which should help keep prying eyes away from it and your data secure.
While Apple has barely changed the design of the iPhone 5S compared with last year's iPhone 5 – maintaining its pin-sharp 4-inch retina screen and thin and light body – it is available in a new colour: gold. The traditional black (rebranded as "space grey") and white ("silver") colours are still available, however.
iOS 7, a complete redesign of Apple's mobile operating system, is also launching with the iPhone 5S. It looks to revitalise the rather unchanged iOS, and has taken the approach of "flat" yet colourful design. Improvements are available across the board for all of Apple's built-in apps such as Mail, iMessages, Calendar and Photos. It's worth noting that the iOS 7 update will also be available for existing iPhones, including the iPhone 4, iPhone 4S and iPhone 5.
Speed
Apple has kitted out the iPhone 5S with its latest processor. The Apple A7 combines a new 64-bit architecture with improved processing capabilities, which should result in a doubling of the speed of the phone compared with the iPhone 5S.
Coupled to the new A7 processor is a new co-processor called the M7. Its job is to collect data from the various sensors the iPhone 5S has, including the GPS, processing the information without waking the main A7 chip. In doing so, it should allow various apps and services to continually pull data from the phone's hardware while still delivering an iPhone 5-level of battery life or a good day's worth of use.
Battery life
The iPhone 5S should be able to achieve, at least on paper, a longer useful battery life than the iPhone 5 and iPhones that came before it. Apple has stated that its new flagship will be capable of 10 hours talk time, 10 hours LTE browsing, and 250 hours standby. That's an improvement over the iPhone 5's times of eight hours of talk, eight hours of LTE browsing, and 225 hours of standby. Real-life battery usage will, of course, vary.
Conclusions
The iPhone 5S certainly looks good on paper. With its revolutionary inclusion of a fingerprint sensor in a mass-market phone, which could potentially remove the need for passwords and truly enhance the user experience, Apple could be on to a winner.
However, the rest of the phone is just as it was for the iPhone 5, and you would be pushed to tell the difference between them from a quick visual inspection. Of course, the internal parts have been upgraded, and the new camera system could make a real difference to your photos.
Smartphones
aren't all about internal specifications, and are much more about experiences, which is something Apple is very good at delivering. Combined with the new iOS 7, the iPhone 5S should be very good indeed.